January 25th 2023, Wednesday :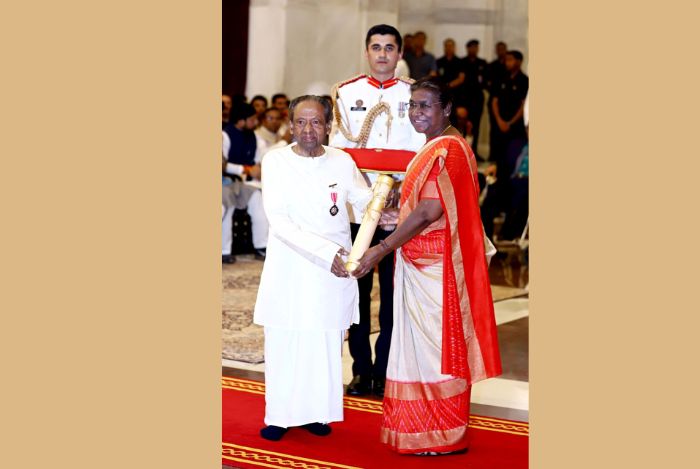 January 24th 2023, Tuesday , 11am - 12.30pm.: We are extremely delighted to present, along with NCPA Mumbai Dance Season 2023, An Interactive session with Natyacharya Guru Kalyanasundaram. We thank Swapnokalpaji and her entire team for all their support.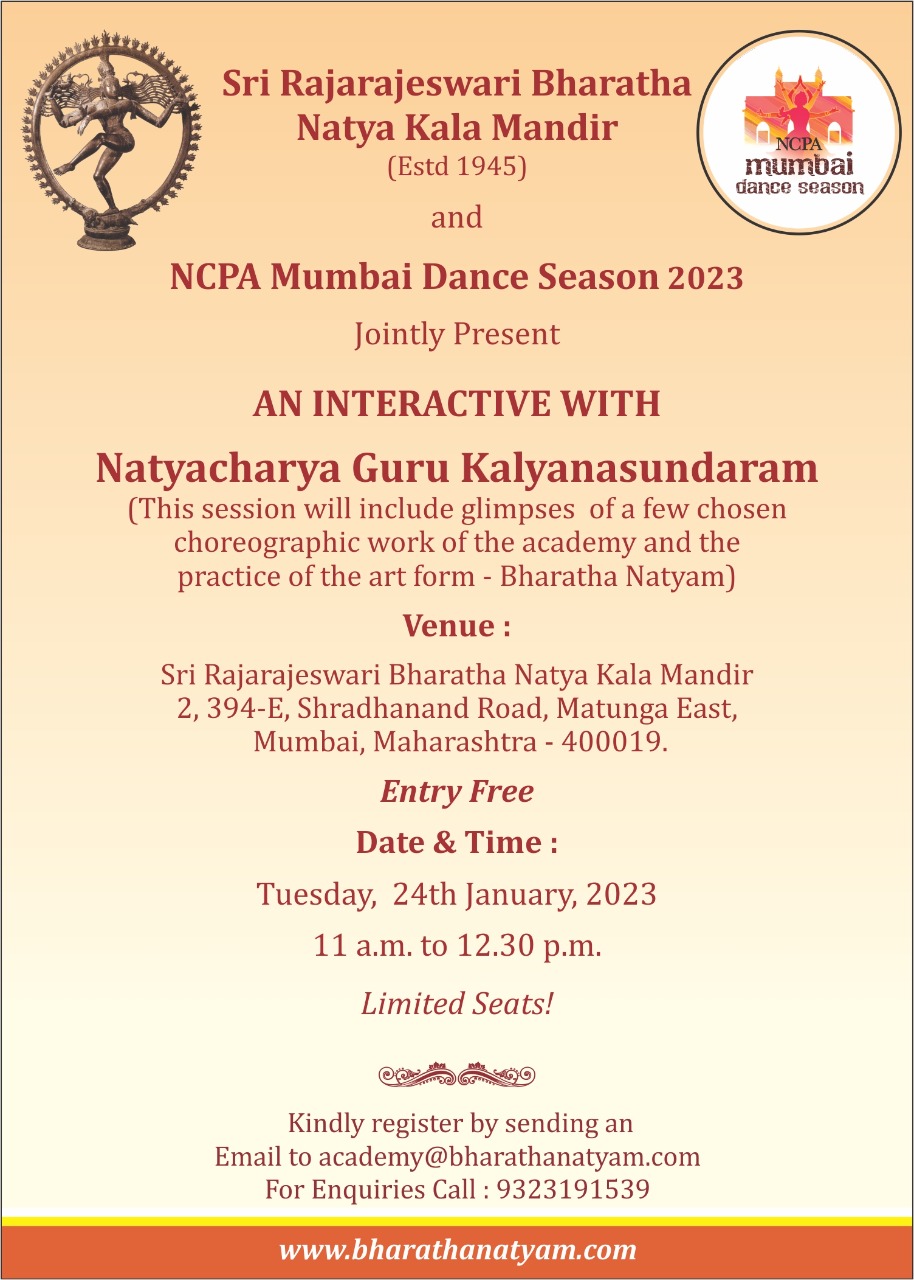 14th January, 2023: 7.15pm :
Margazhi Masa Mahotsavam
Bharatha Natyam programme based on select verses from Sri Andal Thirupavvai by disciples of our Kala Mandir. ( Sruti, Aishwarya, Pallavi, Rahasya and Sneha) at The South Indian Bhajana Samaj, Matunga,Mumbai.
18th December 2022, 5.30pm, Natya Darshan'22:
(Bharatiya Vidya Bhavan - Mylapore, Chennai) Bharatha Natyam by Sruti Natanakumar grand daughter and disciple of Natyacharya Guru Kalyanasundaram
November 27th, 2022, at ISKCON Auditorium, New Delhi:
Performance by Smt Ameeta Chatterjee disicple of Natyacharya Guru Kalyanasundaram
15th December, 2022: 10.30 am :
The Prayer Hall, The Tamil Nadu Government Music College, Chennai - join us in the Centenary Celebrations of Kalaimamani Thanjai Sri M Arunachalam Pillai
28th October, 2022: 6.30pm : Murugan Temple Nerul, Navi Mumbai
Om Saravana Bhava based on Saint Arunagirinathar 's Thirupugazh in Bharatha Natyam, by Sruthi Natanakumar, disciple of Natya Acharya Guru Kalyanasundaram.
July 24th 2022:श्रीकृष्णार्पणम् a classical Bharatha Natyam programme by the disciples of the Kala Mandir at the Sri Sri Radha Gopinath Mandir, ISKCON Chowpatty, Mumbai.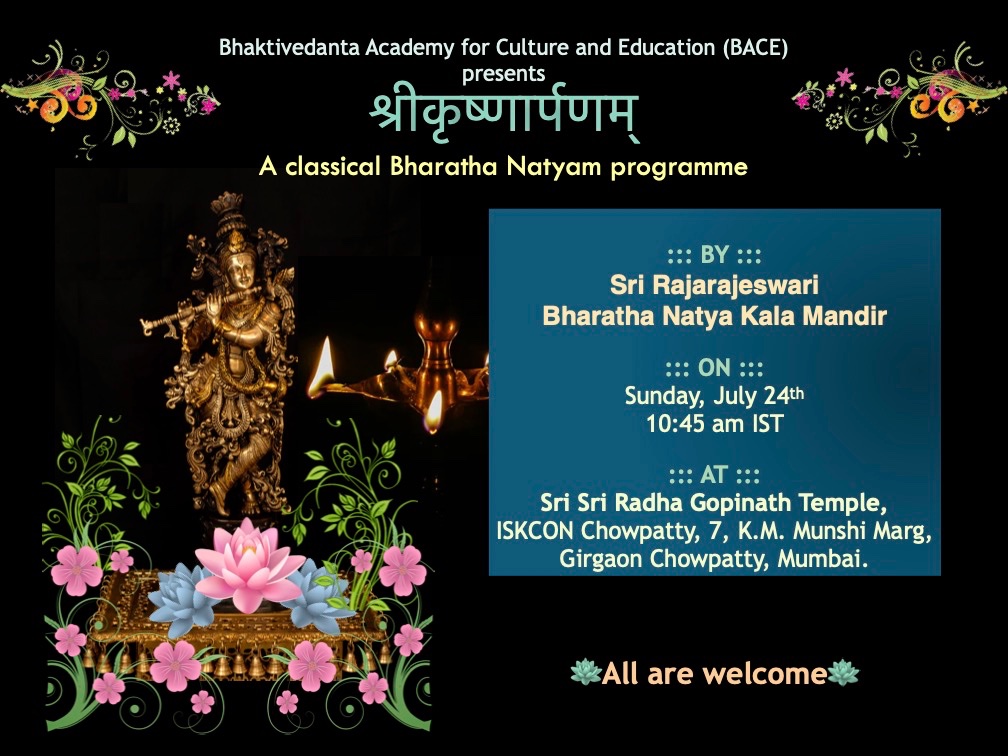 July 1st 2022: At 90, guru Kalyanasundaram continues to remain oneo f the most adored teachers. Seven decades agaon, he shifted from Thanjavur to Mumbai to popularise Bharatanatyam - THE HINDU, FRIDAY REVIEW.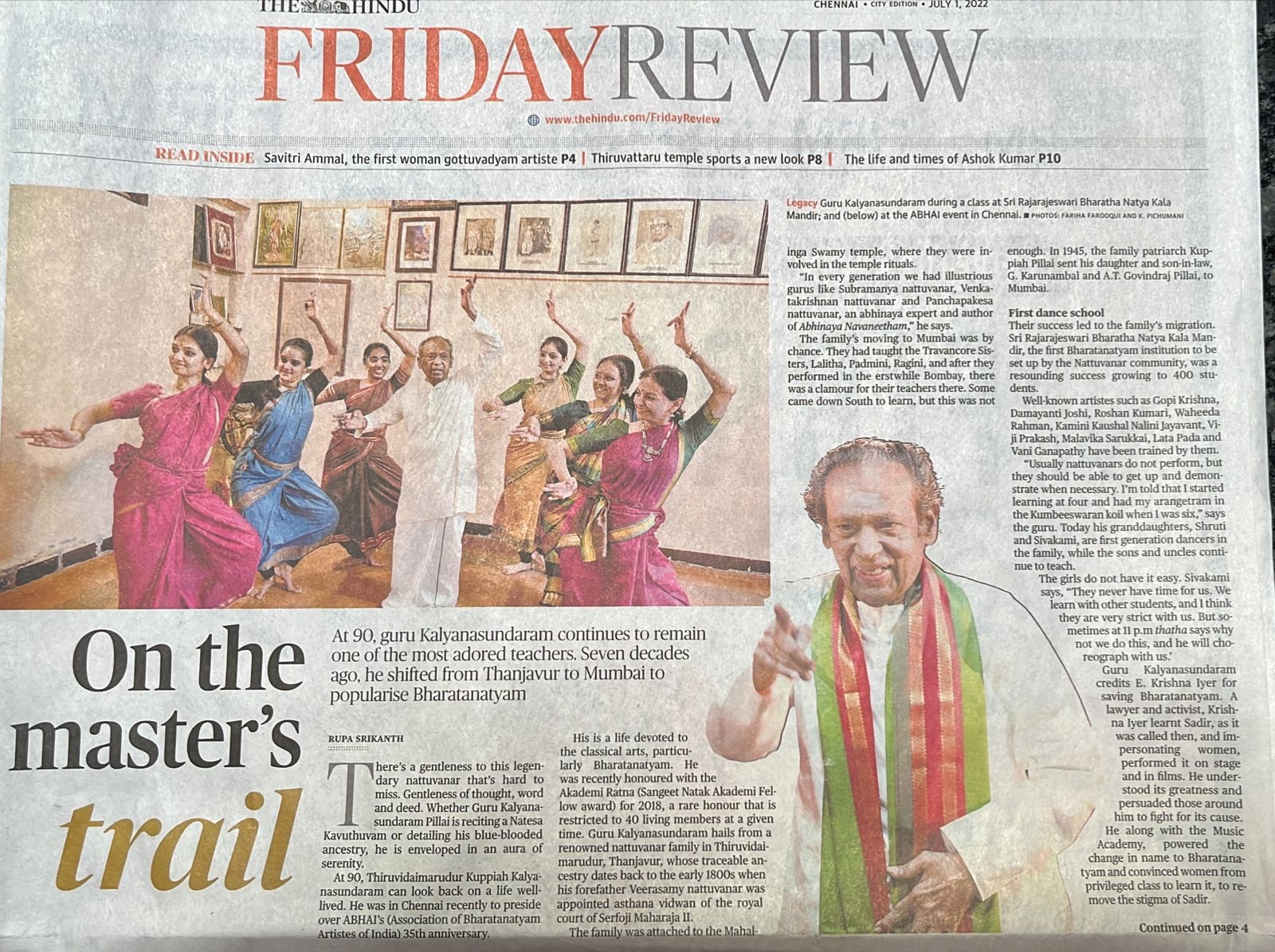 June 26th 2022, 6:30pm : Bharatha Natya Arangetram by Kum. Abhikya Raman at Bunts Center Auditorium, Navi Mumbai.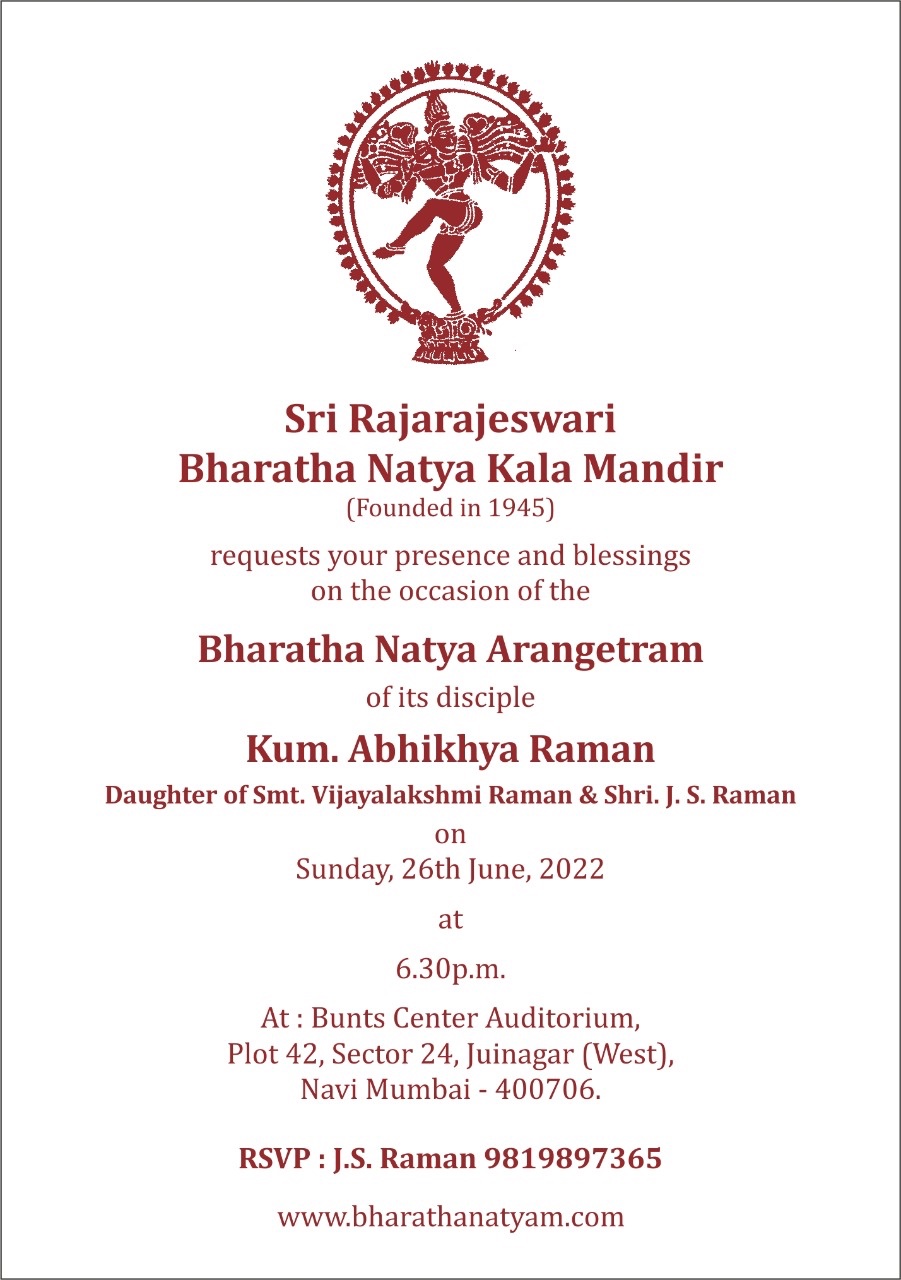 June 12 2022, 10.30am : ABHAI 33rd Annual Day Celebrations and Award Ceremony: Below is the invitation from ABHAI.
Namaskaram! We would be glad if you could join us while we celebrate the achievements of our awardees for 2021 and 2022 during our Annual day tomorrow, 12th June, from 10.30 am onwards at Bharatiya Vidya Bhavan, Mylapore!
In case you are not able to join us physically, pls do join us virtually! Click here to Join


May 22nd 2022, 7:00 p.m : Sri Subramania Samaj Temple, Mumbai, Om Saravana Bhava
a Bharatha Natyam dance programme by disciples of our Kala Mandir!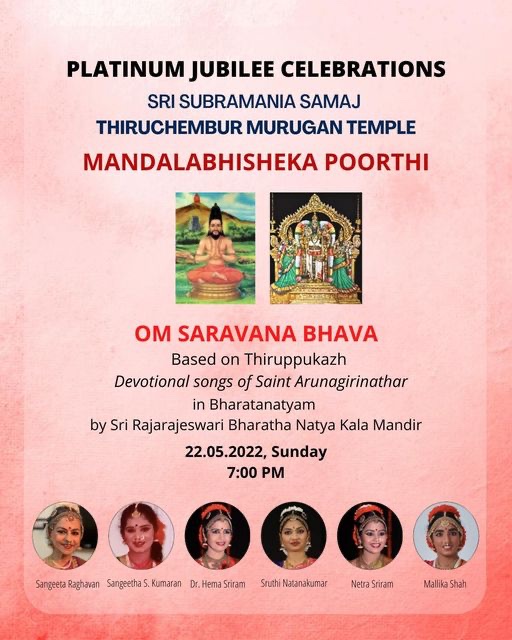 April 12th 2022, 5.45 p.m : Kamani Auditorium,
Bharathanatyam performance by disciples of Guru Kalyanasundaram,
Principal,
Sri Rajarajeswari Bharatha Natya Kala Mandir, Mumbai.
Featuring – Bharathi Murthy, Sivakami S, Sruthi Natanakumar, Pavithra Iyer, Radhika Srinivasan, Aswathi Venugopalan and Tanya Bavadekar.
Programme is live on Sangeet Natak Akademi YouTube, Facebook and Instagram


April 9th 2022 : Sangeet Natak Akademi would like to congratulate all the eminent artists who have been presented with the Sangeet Natak Akademi Fellowship and Awards today by the Hon'ble Vice President of India.